Game of Thrones trionfa agli Emmy e diventa la serie TV più premiata di sempre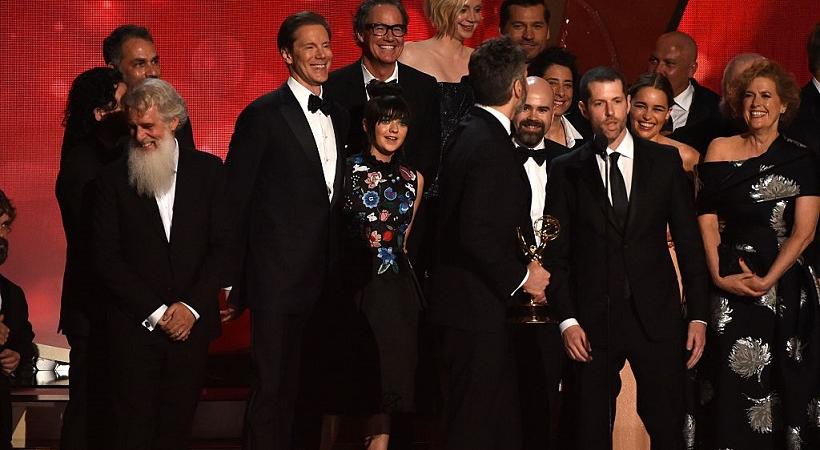 Game of Thrones ha stravinto agli Emmy svoltosi ieri notte. Il premio più prestigioso della TV americana ha registrato un trionfo della sesta stagione di GoT, che ha vinto in ben 12 categorie. Game of Thrones in totale ha così collezionato 38 Emmy, diventando la serie più premiata nella storia della televisione statunitense. Un record destinato ad aumentare con le prossime stagioni.
GAME OF THRONES TRIONFA AGLI EMMY
Serata trionfale per la serie di HBO alla 68esima edizione degli Emmy Awards. Dopo aver vinto in ben 9 categorie lo scorso fine settimana, Game of Thrones ha conquistato l'Emmy per la miglior sceneggiatura e recitazione, oltre a conquistare per il secondo anno di fila il titolo di miglior serie drammatica. Il totale degli Emmy conquistati dalla serie TV è arrivato a quota 38, il miglior risultato di sempre per una serie. Solo lo storico Saturday Night Live ha conquistato più premi, ma è uno show comico in diretta. Tra le serie TV nessuna ormai può rivaleggiare con Game of Thrones. GoT ha superato Frasier per numero di premi vinti, un record particolarmente impressionante alla luce delle sole sei stagioni della serie, contro le 11 della sitcom
LEGGI ANCHE
It's now official: Game of Thrones has won more Emmys than any primetime TV show ever.
The HBO fantasy drama won three awards at the 68th annual Emmy Awards on Sunday night, pushing its lifetime total number of awards to 38 – one more than Frasier, the previous all-time record holder.
Thrones picked up awards for best writing in a drama series, best directing in a drama series, and best drama on Sunday night. Overall, Thrones won 12 Emmys this year, out of 23 total nominations.
The series already became the most-honored drama series after picking up nine Emmys at the Creative Arts ceremony last weekend, surpassing longtime title holders Hill Street Blues and The West Wing. By scoring another three awards Sunday, Thrones becomes the only primetime scripted series to ever have won this many awards.
While Thrones lost in the drama acting categories, it took home best drama for a second straight year. Other shows up for the best drama award on Sunday included The Americans, House of Cards, Downton Abbey, Better Call Saul, Mr. Robot, and Homeland.
The record is particularly impressive considering Thrones has "only" been on six seasons, while Fraiser was on for 11. And Fraiser was competing in an era of only a few TV channels, whereas this year offered more than 400 scripted shows. But Thrones has the advantage of being a lavishly produced drama that's competitive in so many varied categories, from special effects to costumes to writing to directing to acting.
Thrones still hasn't won more Emmys than any TV series, however – Saturday Night Live has 45, but its an unscripted non-primetime series that's been on the air for 41 years (season 42 of the long-running series will premiere next month). But among primetime scripted series, Thrones is now the undisputed king